Laith
There is sincerity, warmth, love, an embrace and a magical potion of dreams in every piece of her work.
Laith Biltaji
Toronto -Canada
Laith
My first encounter with Erna Kuik's work rooted me in the earth I was standing on, and the more I stood there gazing at her work and talking to her, I started to drift into a fairytale-like state of a magic bean that became a stalk that towered into the clouds to an enchanted world.
Laith Biltaji
Toronto -Canada
Patty voorbeeld
Erna's work makes you HAPPY; not only to enjoy for many years but receiving her post feels like a true gift.
misa
Erna Kuik is an exemplar for creative living, whose work adds joy, meaning and
inspiration to my life daily!
Misa Klyce, California, USA
Beth Forrester
Erna brings her unique expression of humour, her natural playfulness and a beautiful light hearted sense of wonder to her pieces. Her work really speaks of her personal dynamism and her thoughtful approach to the world.
Beth Forrester, United Kingdom
Bert Tournois
We have chosen 'I turn and the world turns with me' in gold. Not just because this is a beautiful work; we think it fits in the current turbulent time in which the coherence of causes and consequences of our actions is becoming more and more noticeable
Bert Tournois, The Netherlands
Eva Ullman
I have fallen so deeply in love with Erna's work and I like to consider myself one of her biggest fans. I am slowly but surely becoming a big collector of her art!
Eva Ullmann, Massachusetts USA
eva Ullmann
Erna brought two of my songs to life through her artwork in a way I didn't even know was possible and managed to portray the lyrics and mood so perfectly in these pieces.
Eva Ullman, singer songwriter, Massachusetts USA
Wei Fang
I feel so related to "I think I think too much". Beyond the fact that I feel the art speaks for my feelings, I am surprised that you can draw those things that I sometimes find a bit ashamed to admit. Thank you for all the beautiful work.
``Jacoba
Erna playfully incorporates life-sized themes in her
linocuts. Each work of art is a unique item for everyone. An 'Erna' on your wall is not just a beautiful drawing with a powerful message. It is also a special memory of meeting an inspiring person.
Jacoba Pylyser, the Netherlands
misa, piece of my soul
I found a piece of my soul I didn't know was missing in meeting Erna Kuik at Art Amsterdam Spui. Her work is sublime- at once whimsical and meta, adored by fans of all ages from around the world.
Misa Klyce, California, USA
Jolien
Dear Erna, every day when I walk past your beautiful linocut, I hold my breath for a moment to absorb its beauty. I feel empowered by the image 'I turn, and the world turns with me'.
Jolien Wilmar, the Netherlands
misa, Rembrandt
I hand carried two pieces of Erna back to San Franscisco as though they were Rembrandts from the Rijksmuseum! Subsequently, purchasing 'Green Thoughts Never Sleep' online was an absolutely smooth and joyful process!
Misa Klyce, California, USA
dunja blom
The print that I bought from Erna matched exactly with my mood at that moment. It was
love at first sight. It won't take long that I will enter her studio to purchase a second work!
Dunja Blom, The Netherlands
Helma Verhaart
Erna's work reflects the woman she is, loving, pure, driven and extremely creative
Helma Verhaart, The Netherlands
Claudia Schafer
I chose my absolute favorite artwork from Erna at Art Amsterdam Spui and at home we ordered another print.
She immediately responded and the processing of this purchase was more than straightforward. After a few days I had the print in my mailbox.
Claudia Schäfer, Germany.
Stefanie
I still enjoy your work every day when my gaze wanders naturally to the pictures.
Stefanie Granierer, Vienna, Austria.
Art Events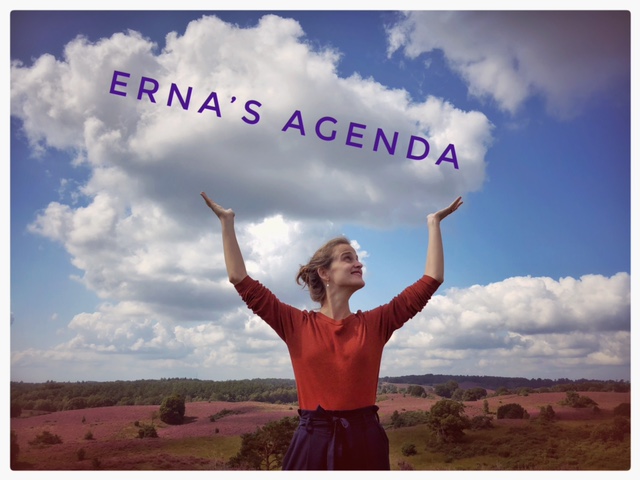 block
Meet Erna and her work in Gallery Kuik & van Dam in Zutphen, at Art Amsterdam Spui and other art events. Welcome!